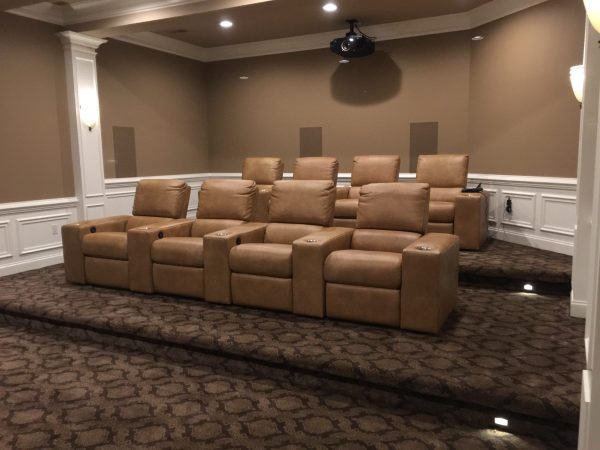 Technology Integration Experts
At Northern Audio, we are your technology integrators – and we've been the premier home technology experts in Western Pennsylvania for more than two decades.
Custom Design & Installation Services
Our clientele includes discerning homeowners from all walks of life, in all neighborhoods of the greater Western Pennsylvania and Greater Pittsburgh area…homeowners who want the very most in home entertainment and home automation. Each of our efficiently designed and built installations ensures that your system is designed on time and on budget. From high-performance two-channel systems and custom home theaters to fully integrated smart homes, our team has the experience to deliver home technology solutions from concept to calibration.
Properly setting up your equipment is equally as important as the products themselves. By allowing us to install and calibrate your system, you'll get not only the best long-term investment, but also a system that performs the way YOU want it to. Perhaps best of all, it will be a system that your whole family can use and enjoy.
Carefully Handpicked Home Electronics
As the "go-to" premium home electronics provider in Pittsburgh and the surrounding region, we are able to carry a curated selection of product lines that not only meet our stringent requirements but also are not found anywhere else, as we are the exclusive Pittsburgh dealer for a countless number of brands and manufacturers. Beyond that, we test and handpick new products as they enter the market, and we work very hard to choose the very best ones…products that end up being the ideal fit for our customers. Since we've already vetted all of the products we carry, you can rest assured they are among the best in their category for performance and value.
An Easy And Enjoyable Buying Experience
Whether you're meeting with us in one of our world-class showrooms or in your own home via our free walk-throughs, our goal is to help you find products that fit and enhance your lifestyle.
Located on the second floor at 3003 Babcock Blvd, our one-of-a-kind showrooms allow our customers to fully experience an incredible selection of premium home theater, 2-channel audio, and unparalleled home automation products. Witness first-hand how you can enjoy a Dolby Atmos, 161-inch, 4K home theater in an everyday 14' by 16' room. See how easily your voice commands can turn on the kitchen lights or even light the living room fireplace. Decompress on the sofa while auditioning your favorite playlist. We display real-world environs…in real living spaces, so you can imagine, relate, and decide.
Our expert consultants live and breathe this multitude of products and solutions on a daily basis. As a result, it's our pleasure to walk you through every detail and allow you to understand not only what our products and services can do for you, but also — and most importantly — how we can integrate everything seamlessly with your everyday life.
Plus, we can help make your buying experience easier with financing available from Synchrony Bank (for those who qualify).  For a limited time, get one year interest-free financing on all purchases over $1,000.

Our experts are always just a phone call 412-931-5850 or e-mail away.
Unparalleled Industry Expertise
Since we first opened our doors, everything at Northern Audio has been aimed at providing great customer experiences. It starts with our founder and owner, Mark Mawhinney, whose favorite part of the job has always been getting our customers to become as passionate as he is about the world of home entertainment. Mark will be the first to proclaim that Northern Audio is not a mass-market retailer that just sells boxes. You can find the products virtually anywhere: in the big-box stores, on the Internet, and everywhere else in between. The real key to Northern Audio's success is our vast expertise and ability to integrate those products together.
On-Going Customer Support
We sell full-system solutions that are long-term investments. Because they're important investments, it's imperative to our customers that we can help them maintain and upgrade their systems over time. And if something isn't working properly, we'll either come to the rescue to make it work or become your ambassadors to the manufacturer to get you a replacement product that does work.