Product Number: D-03X
Now a single digital player embodies the most advanced digital decoding along with the most enduring approaches to design and engineering.
LUXMAN's new D-03X combines traditional red-book CD playback with an advanced hi-res DAC circuit featuring MQA full decoding.
Of crucial importance, the D-03X inherits the philosophy and experience of successive LUXMAN digital players and remains true to timeless LUXMAN design principles, including rugged chassis, oversized power supply and meticulous circuit selection. The result: reproduction of effortless musicality.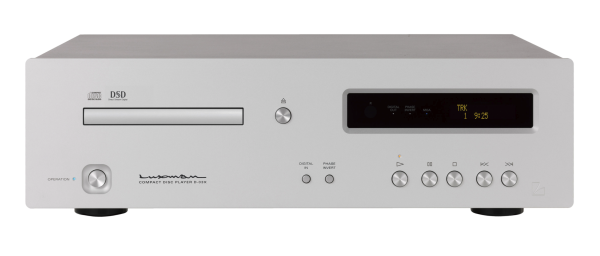 The D-03X can reveal new subtleties in even the most familiar music. MQA (Master Quality Authenticated) is an award-winning British technology that delivers the sound of the original master recording. The player includes MQA technology, which enables you to play back MQA-CDs as well as MQA audio files up to 24-bit transferred via USB, optical and coaxial inputs. The USB input also supports PCM data up to 384 kHz/32-bit and DSD data up to 11.2 MHz while the optical and coaxial inputs accept PCM signals up to 192 kHz/24-bit. In addition to conventional "isochronous" file transfers at fixed bitrates, the USB input supports four modes of Bulk Pet* high-resolution audio file transfer. Bulk Pet, optimizes data packaging and delivery to the DAC easing the processing load for both the host CPU and the device CPU enhancing playback stability and ultimately yielding improved sound quality. All signals benefit from a high-precision, low-jitter, low-phase-noise master clock, minimizing noise near the oscillation frequency and optimizing transmission accuracy.
*Bulk Pet is a registered trademark of Interface Co., Ltd.

Supported discs
CD (CD-R, CD-RW, MQA-CD)
Supported sampling
frequencies
USB input (PCM) : 44.1 kHz, 48 kHz, 88.2 kHz, 96 kHz, 176.4 kHz, 192 kHz,
352.8 kHz, 384 kHz (16, 24, 32-bit)
USB input (DSD) : 2.8 MHz, 5.6 MHz, 11.2 MHz (1-bit)
Coaxial / Optical input : 44.1 kHz, 48 kHz, 88.2 kHz, 96 kHz, 176.4 kHz,
192 kHz (16, 20, 24-bit)
Analog output
voltage / impedance
Unbalanced : 2.4 V / 300 Ω, Balanced : 2.4 V / 600 Ω, DSD : 1.7 V
Frequency response
CD : 5 Hz to 20 kHz (+0, -1.0 dB)
Coaxial / Optical : 5 Hz to 47 kHz (+0, -3.0 dB)
USB : 5 Hz to 47 kHz (+0, -3.0 dB)
Total harmonic distortion
CD : 0.003 %, Coaxial / Optical : 0.002 %, USB : 0.002 %
S/N ratio (IHF-A)
CD : 101 dB, Coaxial / Optical : 114 dB, USB : 113 dB
D/A converter
Texas Instruments PCM1795 (monaural mode) x 2
Power supply
230 V~(50 Hz) / 115 V~ (60 Hz)
Power consumption
18W
Dimensions
440(W) x 133(H) x 410(D) mm
front side knob of 2 mm and rear side terminal of 8 mm included in depth
Net weight
13.2 kg
Accessories
Remote control (RD-28), Power cable
*LUXMAN Audio Player software for Windows 10 and macOS 10.15 and driver software for Windows can be downloaded from the LUXMAN website.
*Mac, Mac OS, OS X and macOS are trademarks of Apple Inc., registered in the U.S. and other countries. Windows is a registered trademark of Microsoft Corporation in the United States and/or other countries.
*DSD is a trademark.
*MQA and the Sound Wave Device are registered trade marks of MQA Limited.(c) 2016
*MQA-CD is a registered trade mark of MQA Limited.(c) 2017
*The described company names and product names are trademarks or registered trademarks of each company.