Product Number: L-509X
The L-509X integrates the features of both a high quality separate amplifier and a high performance integrated amplifier into one product. The goal of creating an ideal integrated amplifier, initiated by LUXMAN with the launch of the L-509fSE in 2002, has now been advanced with the development of the L-509X. The L-509X integrated amplifier is equipped with many desirable features, such as the New LECUA1000 and a discretely configured buffer circuit in the output stage of the pre-amplifier circuit. LUXMAN's ODNF (Only Distortion Negative Feedback) original amplifier feedback circuit and a power supply with independent left and right channel blocking capacitors are intrinsic to this design, as well as many components used only in high end models, ensuring high-quality audio reproduction. The design of the L-509X incorporates the cream of LUXMAN's proprietary technologies, breaking new ground and creating the ultimate expression of "separates in a single unit".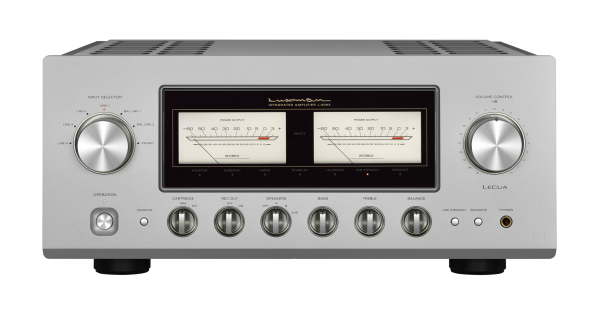 ODNF* Version 4.0 – innovative amplification feedback circuit
An integral part of the design of the L-509X is LUXMAN's original ODNF* amplification feedback circuit, featuring a high-speed primary slew rate, an ultra-wide bandwidth and a low level of distortion that is achieved by feeding back only the distorted components of the audio signal from the output of the amplification circuit. The L-509X is equipped with the latest Version 4.0 ODNF providing a dramatic enhancement of accuracy in distortion detection due to the triple-paralleled first stage error detection circuit. Lower impedance and a higher signal to noise ratio have been achieved due to the paralleled first stage and Darlington equipped second stage amplification circuit. A 3-stage Darlington circuit and a 4-parallel push-pull structure is used for the output stage, similar to the M-700u power amplifier. This achieves output at 120W+120W(8Ω) and 220W+220W(4Ω), enabling the L-509X to drive speakers powerfully with rich dynamics and full expression. *ODNF stands for "Only Distortion Negative Feedback".
Rated output
120W + 120W (8Ω),
220W + 220W (4Ω)
Input sensitivity/input impedance
PHONO (MM): 2.5mV/47kΩ
PHONO (MC): 0.3mV/100Ω
LINE: 180mV/47kΩ
BAL.LINE: 180mV/55kΩ
MAIN-IN: 1.1V/47kΩ
Output voltage
REC OUT: 180mV, PRE-OUT: 1V
Frequency response
PHONO: 20Hz to 20kHz (±0.5dB)
LINE: 20Hz to 100kHz (within -3dB)
Total harmonic distortion
0.007% or less (8Ω, 1kHz)
0.06% or less (8Ω, 20Hz to 20kHz)
S/N ratio (IHF-A)
PHONO (MM): 91dB or more
PHONO (MC): 75dB or more
LINE: 105dB or more
Volume adjustment
New LECUA1000
Amplification circuit
ODNF 4.0
Output configuration
Bipolar 4-parallel push-pull
Damping factor
370
Max. amount of tone control
BASS: ±8dB at 100Hz
TREBLE: ±8dB at 10kHz
Power supply
230V~(50Hz) /115V~(60Hz)
Power consumption
380W
150W (under no signal),
0.5W (at standby)
External dimensions
440(W) x 193(H) x 463(D) mm
front side knob of 20mm
and rear side terminal of 37mm included in depth
Net weight
29.3kg (main unit)
Accessories
Remote control (RA-17A)
Power cable
Speaker terminal Supported Y-lug terminal dimension
Width of part a: 16mm or less
Width of part b: 7mm or more
* Connection may not be performed
depending on the shape of the
Y-lug terminal.