Product Number: Tambaqui DAC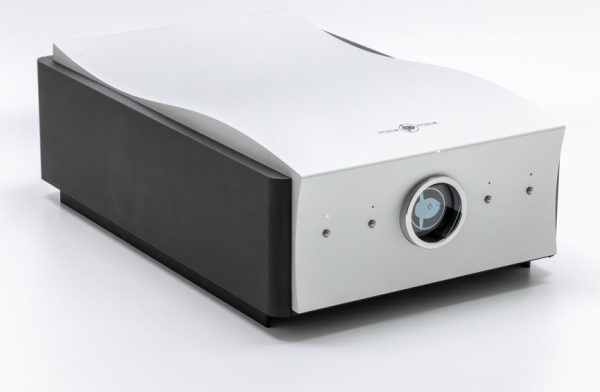 Responding to popular demand, Mola Mola launched the famous discrete DAC from the Makua as a separate unit.Mola Mola's Tambaqui DAC is the perfect upgrade for owners of complete high-end systems who want to retain the characteristic sound of their existing preamplifier whilst lifting their digital sources to another level. The converter is a two board stack. On the first board, all incoming digital audio is upsampled to 3.125MHz/32 bits and converted to noise shaped PWM. On the other board are two mono DACs, in which a discrete 32- stage FIR DAC and a single-stage 4th order filtering I/V converter, convert the PWM into analogue with a breathtaking 130dB SNR. This is near the theoretical limit for 24-bit files and far beyond that of even quad-speed DSD. Uniquely, distortion remains below the noise floor even for full scale signals.
With the addition of a lossless digital volume control and headphone outputs, it is also the ideal control hub of a minimalist audio system for music lovers who have moved on to a digital sources only system. This DAC, combined with a pair of Mola Mola Kaluga monoblocks constitutes the finest digital replay chain available, irrespective of price.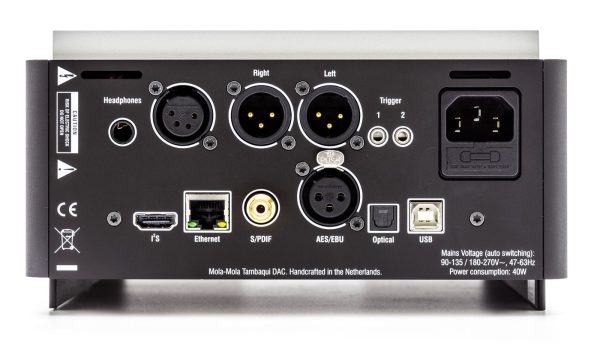 OPERATING PRINCIPLE
PWM DAC with 32-stage discrete analogue FIR output stage.
Asynchronous upsampling to 3.125MHz/32 bit. 7-th order noise shaper clearing 80kHz band. Each input rate has an optimized upsampling filter chain.
I/O
Optical (Toslink)
S/PDIF (Cinch)
AES/EBU (XLR)
USB type B
Ethernet (Roon Ready)
Bluetooth (SBC, AAC, APTX, LDAC)
IВІS over HDMI
Balanced output (XLR)
Headphone output (6.3mm Jack, Balanced XLR 4pin)
2 programmable trigger outputs (3.5mm Jack)
Processing balance and input gain offset
Selectable output levels
Phase invert
SUPPORTED FORMATS
PCM up to 384kHz/32 bits (>192kHz and >24 bits via USB and Roon only)
DoP and Native DSD up to quad speed (USB and Roon only)
PERFORMANCE
Full-Scale Output Level (XLR): 18dBu
Full-Scale Output Level (headphone): 18dBu
Signal to Noise Ratio: 130dB
THD, IMD: not measurable (estimated -140dB)
Bandwidth: Up to 80kHz (apodizing response)
Integrated jitter: <1ps from 10Hz upwards, <300fs from 1kHz upwards
Jitter rejection: >80dB at 1Hz after 20 seconds of loc