Product Number: DAC501
The DAC501 is a state of the art D/A Converter with an unprecedented level of sophistication and versatility.
With the DAC501 is creating a new paradigm for what used to be a black box device. A typical D/A Converter is a "set and forget" device. Not so with the DAC501. It adds a number of interesting signal processing features and sports a variety of digital inputs. Balanced, unbalanced and headphone outputs are provided.
Weiss Engineering has a 30 year history in D/A Converter design. In that time span we have learned a thing or two about converter design. The DAC501 is the essence of our experiences.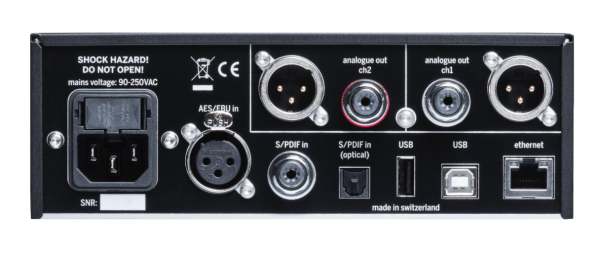 POWER SUPPLY
A powerful non-switching power supply is used. All sensitive voltages have their own regulators which are separated between left and right channels. The result is an analog output free of "digital noise" and channel crosstalk. The power switch activates a semiconductor relay which only switches on or off at zero crossings of the mains voltage. This assures a glitch free power switching. The two mains transformers are toroidal types. Mains voltage selection is done automatically by measuring the mains voltage before power is applied to the rest of the electronics.
SYNCHRONIZATION
An internal high precision / low jitter clock generator is responsible for clocking the D/A converter section. The sampling frequency of that generator is fixed at about 195kHz. The input signals are converted to the 195kHz sampling frequency for optimal signal quality. This scheme also helps significantly in reducing any jitter related effects. All standard sampling frequencies up to 384 kHz plus DSD x64 and x128 are supported.
DIGITAL INPUTS
There are a total of five inputs:
AES/EBU or S/PDIF via XLR, Toslink and RCA sockets
UPnP / DLNA via Ethernet
USB
Roon Ready
Accepted formats: PCM 44.1kHz up to 384 kHz, DSD 64x / 128x.
Future formats can be accommodated for via software updates.