A Showroom Unique To Pittsburgh
Our showroom is unlike any others in the region, in that it's not a mock-up living space. Rather, it's a 2000 square-foot penthouse apartment. So you can easily understand and relate to how our home entertainment systems would work that way you want — and in you home.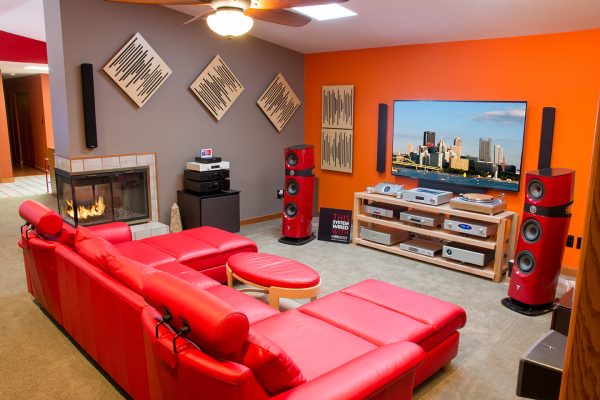 Exclusive Brands from Respected Manufacturers
Call us today to arrange an appointment to fully experience an incredible selection of premium home theater, high-performance audio, and smart home products, products you won't find in your local big-box store & many products that are exclusive to Northern Audio in Pittsburgh.  Our expert consultants can walk you through every detail and provide complete yet simple demonstrations on how we can integrate everything seamlessly with your life.
Conveniently Located in Ross Township – Minutes From Downtown Pittsburgh
We're located upstairs at 3003 Babcock Blvd, above Music To My Ear and next to Kniess' Mini Golf, just minutes from McKnight Road, I-279, and downtown Pittsburgh. Showroom hours are available Monday through Saturday, so feel free to contact us to schedule an appointment!
Dedicated Home Theater
Our home theater, one-of-a-kind in a five-state area, boasts a glorious 4K projected image on an immersive 161-inch, 2.35:1 aspect-ratio screen.  You'll also enveloped by Dolby Atmos, the next revolution of surround sound.
But that's just the beginning. With proper wall treatments, lighting, seating, and other nuances that you have to see to believe, we'll show you first-hand how we can custom design a home theater exactly tailored to your needs and wants, for a true cinematic experience.
Transform Your Home Into A Smart Home!
With Control4 Smart Home Automation, our showroom also functions as a complete smart home. From locks to lights, from shades to the awning to the fireplace, and of course from whole-house audio to video, our showroom is the best way to show our customers what it feels like to live in a true smart home. And you can control everything from your voice, a single remote, a wall panel, or an app on your smart home — from anywhere in the world!
Contact Us Today!